Using the Boot Menu
The RISC OS Boot Menu is intended to assist you if your computer fails to boot correctly, or to help you reconfigure a machine without booting first. Failures to boot may be due to incorrect configuration of the system and, for example an incorrectly selected boot device.
You can forcibly invoke the Boot Menu by holding down Shift on the keyboard as your machine is about to begin loading the normal Boot Sequence.
The boot menu is designed to run even on systems with minimal functionality and therefore has a simple user interface with large text based menus. Below are some example screens from the Boot Menu.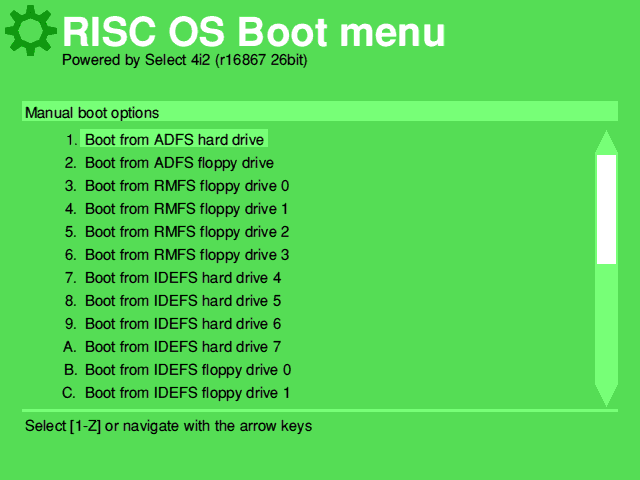 The screen below is the second part of the view above, obtained by using the cursor keys to move the highlight down the menu. From here, you can see that it is possible to Exit to desktop or Exit to command line, without booting. It is also possible to Configure the machine.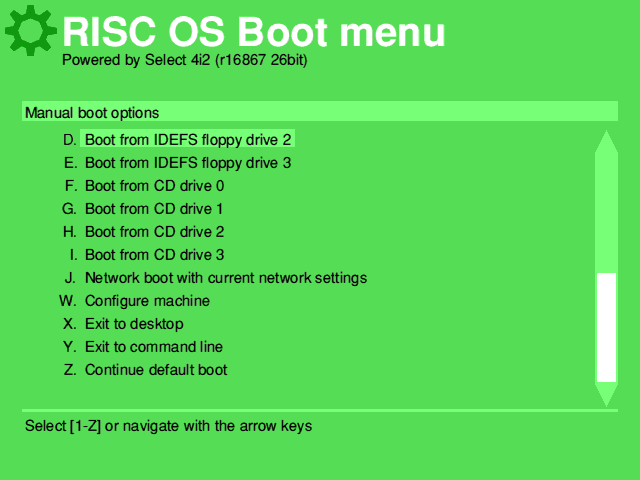 Selecting Configure machine takes you to the menu below. This menu allows you to set various configuration options which may be difficult to configure if you are having problems booting normally.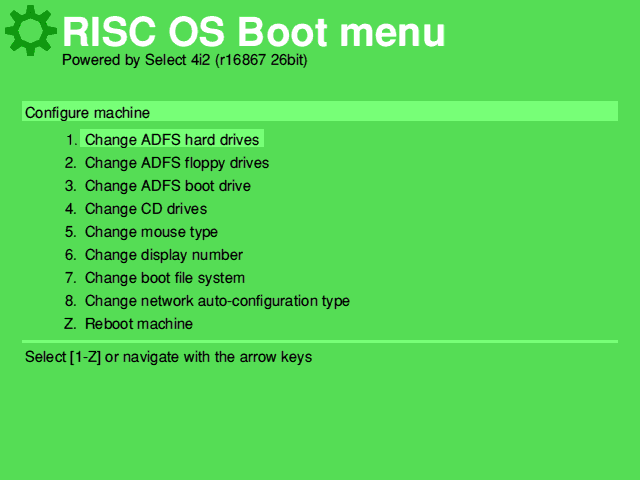 As an example, if you were to select Change boot file system, this leads to the screen below, where you are able to choose from available RISC OS file systems in your computer.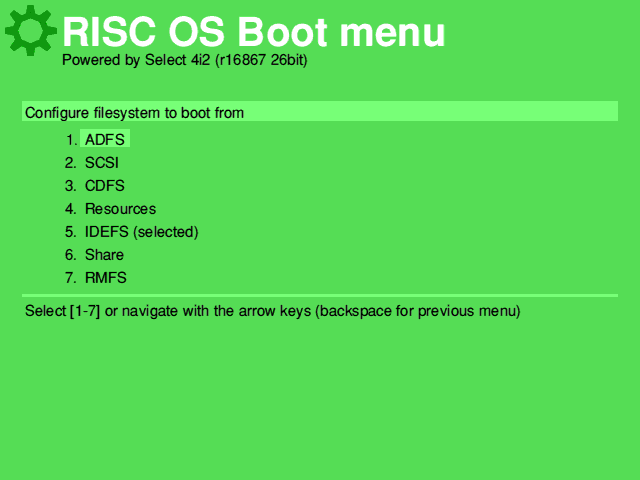 Exiting the Boot Menu
To exit the Boot menu, there are several options. Depending on why you entered the Boot menu in the first place will usually dictate how you want to exit. If you entered the menu to change the selected file system to boot from, then the most useful exit is to reboot (option Z) from the Configure machine menu. In other situations, you may have deliberately interrupted the normal Boot sequence and wish to access the RISC OS Command Line Interface (CLI), so Exit to command line (option Y) from the main menu will be used.