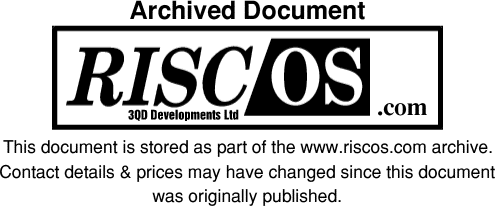 PRESS RELEASE
31/05/03
RISC OS Printer Driver Support
RISCOS Ltd is pleased to announce two developments with regards to RISC OS Printer Driver Support.
RISC OS Printer+ Source Code available for Download
1. The Source Code to the RISCOS Ltd !Printers+ Front end is now available for download from the SourceForge Web Site under the project title of "roprinters". The project may be viewed via http://roprinters.sourceforge.net/ or http://sourceforge.net/projects/roprinters
Printers+ provides a number of enhanced features over the standard RISC OS Printers application, including support for remote network printers, advanced printer configuration applications. Details on accessing the Printers+ source, and on building Printers+ using these sources are now available at http://roprinters.sourceforge.net/
The site also includes useful links to documents on the RISC OS Printing system, and details of the mailing lists for announcements of new versions of Printers+, and for user discussion of Printers+.
If you require any further assistance in accessing or using the Printers+ sources from SourceForge.net then please contact the roprinters SourceForge maintainer David Marston mailto:roprinters@illudium.org.uk and he will do what he can to help, or to find answers to your questions.
Whilst we are not releasing the Sources to the "back end" Printer Dumper modules at present, we are happy to co-operate with any developer who wishes to receive information on the PDumpers system in order to support new Printing systems and computer models. All that is requested of Developers is that they are subscribers to the RISC OS Select Scheme and sign appropriate agreements in order to receive technical information.
Pop-up Printers
2. The Pop-up version of !Printers developed by Castle Technology for use on their Iyonix computers is now available for free download by existing RISC OS 3 and RISC OS 4 users from the RISCOS Ltd website at http://acorn.riscos.com/acornftp.htm
The Pop-up printer manager can replace existing versions of !Printers (though it does not have the additional capabilities of Printers+ to connect to a wide range of Networked printers) but does offer the following new features:-
Pop-up Configuration
Connecting a new USB printer will cause !Printers to self-configure the new printer, popping up an active printer icon on the icon bar immediately with no manual setting up required.
"New printer" Window
If the Printer Manager does not recognise a particular printer, a simple dialogue box appears allowing the user to select an appropriate Printer Definition File from those installed on the computer.
Full USB Support
The new !Printers supports USB printers. The plug and play features of USB mean that a wide range of USB printers can now be used on all RISC OS computers.
New "Duplicate" Feature
Duplicate is a new feature that allows the user to 'clone' multiple configurations for a single physical printer. This makes it easy, for example, to switch between draft and high resolution without having to keep reconfiguring the printer manager.
Support for 'Long Control Strings'
In support of the technical changes to the printer dumper software (details of which are available from http://www.iyonix.com/32bit/PDumper.shtml) the Printer Manager can now send very long control strings to the printer. (It should be noted however that the API for these Long Control Strings is different from the API released by RISCOS Ltd back in March 2000, which is detailed on the SourceForge Web Site.)
"Install New Printer" Shortcut
The process of installing a new printer has been simplified by a new shortcut in the icon bar menu. Clicking on the "Install new printer" shortcut brings up the available printer definitions and a simple double-click installs the desired driver.
Other features include:
Multiple printers on icon bar
Editable printer name
Background spooled printing
Queue control
Sharing for networked printers
Parallel connection support
Serial connection support
Network connection (NetFS, Econet)
Print to file, optionally appending to file
Choice of paper sizes
Editable paper sizes
Drivers for a number of USB printers
(e.g. Canon BJ S520, S450, S330, i550, S530D, Epson EPL5800 and HP DJ850C )

For further details contact:-
Paul Middleton paul@riscos.com
Managing Director,
RISCOS Ltd,
3 Clarendon Road,
Cardiff,
CF23 9JD
Tel: 02920 464020
Fax: 02920 492326
About RISCOS Limited
RISCOS Ltd develops and sub-licences the RISC OS Operating System under licence from Pace Micro Technology plc for use on Desktop computers.
####

RISC OS is a trademark of Pace Micro Technology plc.
All other brand and product names are trademarks or registered trademarks of their respective owners.