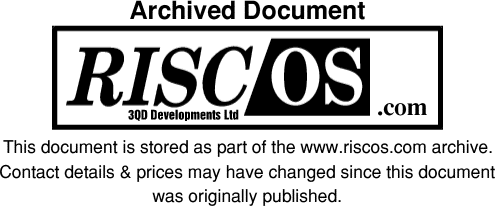 PRESS RELEASE 30/04/07
RISCOS Ltd have today announced the shipment of the first Select 4 Issue 2 CDs to subscribers of the RISC OS Select scheme.
Select 4 and its underlying RISC OS Six technology represents over 10 man years of development which has taken RISC OS 4 from its 26 bit version to its new fully 32 bit neutral source version.
Select 4 Issue 2 is available to Download by any subscriber to the RISC OS Select scheme whose susbcription was renewed after 1st January 2006, even if that subscription has now lapsed.
CDs will reach subscribers over the next week, but for those who can't wait, or who subscribed to the Web Only version, then there is the choice to download the new Select 4 ROM image, Boot sequence and supporting applications in a 15MB Zip Archive, or else as an 63MB ISO image, which features a number of extra goodies.
With the increased availability of Broadband connections, future Select releases will only be available for Download for the standard Annual subscription of £105 (£99 for Foundation members). A CD will only be available as an optional extra of £5 per CD requested.
New subscriptions to the Select scheme, remain at £155 (£150 for Foundation susbcribers). Previous susbcribers who have lapsed may rejoin for the previous price of £99 up until 30th June 2007.
Full details of the new features can be found on the RISC OS Select and RISC OS Six websites http://select.riscos.com/RISCOS6/key.html
Some of the new features now available in Select 4 include:-
Full printing support (which was not available in Six Preview).

Greatly enhanced Viewfinder graphics card support. It is now possible to swap between Viewfinder and VIDC video outputs, with different screen resolutions configured on both outputs.

A hardware accelerated version of the classic Meteors game.

A full RISC OS Six User Guide.

A new !Boot verification tool to help identify problems with the !Boot sequence.

An updated !Chars application.

A new Pinboard configuration tool with a new set of RISC OS Six backdrops.

Double clicking !Boot now opens the !Boot configuration window automatically.

Other applications such as the Display icon can also call the Boot configuration tool, with the appropriate Tool being opened. Users can disable this action if desired.

Display icon now has a screen mode "try" button. MDF files can be tested by dragging and dropping them onto the Monitor icon.

A new ProbeMonitor command can automatically detect connected monitors when a Viewfinder card is in use.

Extra standard RISC OS Fonts - Clare (AvantGarde), Robinson (Bookman), NewHall (NewCentury Schoolbook), Pembroke (Palatino) and Churchill (Zapf Chancery).

AIF / Compatibility to help prevent incompatible code from being run.
By default the Compatibility options are all enabled.
This release of Select is suitable for the following machines:

A7000


A7000+


RiscPC


StrongArm RiscPC


Turbo RiscPC


Kinetic RiscPC


MicroDigital Alpha



In addition this release is also suitable for use on the following VirtualAcorn products:



VirtualRPC-SE


VirtualRPC-SA


VirtualRPC-Adjust


VirtualRPC-AdjustSA



This release of Select is NOT suitable for the following machines. Attempts to install Select4i2 on these machines may cause them to fail to boot correctly.



MicroDigital Omega


MicroDigital Mico


RiscStation


Iyonix


A9 Home


Orders can be placed by phone, fax or email.


Telephone orders can be placed on 02920 464020
Fax orders can be sent to 02920 492326
email orders can be sent to mailto:paul@riscos.com
Post Orders can be sent to RISCOS Ltd, 3 Clarendon Road, Cardiff, CF23 9JD.


For further details contact

Paul Middleton
Managing Director
RISCOS Ltd

02920 464020