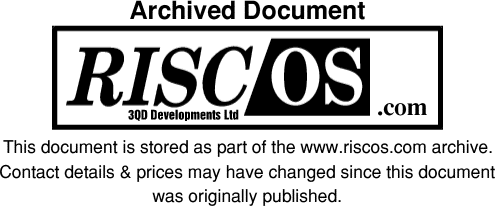 PRESS RELEASE 28/11/05

RISC OS Christmas Roadshow 2005 Exhibitor details
The RISC OS Christmas Roadshow is reviving the old Acorn spirit with a trip round the country (without a double decker bus). This will be your chance to get those last minute presents and bargains just a week before Christmas. To keep costs as low as possible for everyone there will be no admission charges for visitors. There is no need to book a space just turn up at the times listed at the end of this message. There is plenty of parking at each of the venues, but please be aware that in Manchester and Birmingham there will be other party events on in the venues at the same time, so follow the signs to the RISC OS Christmas Roadshow 2005 inside the venues. There won't be any AA signs to lead you to the venues themselves though!
Companies attending are as follows:-
RISCOS Ltd (All three events)
RISCOS Ltd will be showing the latest developments in the Select scheme. There will be special offers on Adjust ROMs and the Foundation RISC User DVD at the show. We want to give everyone the chance to move up to the latest, greatest version of RISC OS and we are making the RISC OS Adjust ROMs affordable for everyone. The latest Foundation RISC User CD will be on sale and this will be your chance to renew your Select and Foundation subscriptions. With just over 6,400 RISC OS 4 users and now just under 500 RISC OS Adjust users the market for RISC OS looks set to continue for many more years.
Advantage 6 / STD (Birmingham / Manchester only)
Advantage Six are pleased to be attending the RISC OS Roadshow. The biggest attraction is expected to be the A9home, come along to experience it for yourself and take the chance to talk to the people behind it. They'll also have other flavours of A9 to see and of course all the usual STD products such as the popular Unipod, A6 range and MouseMinis. As it'll only be a week before Christmas, they'll have Christmas offers for that last minute present (buying presents for yourself is fine by them!) Matt and Stuart look forward to meeting and chatting to you.
APDL (London only)
If CJE Micros don't have it then APDL probably will. With everything from hard drives and memory to a wide range of CD's APDL will have something to fill your stocking this Christmas.
Archive Publications (All three events)
Archive Publications, publishers of the longest surviving RISC OS magazine have recently begun to produce a range of 'compilation booklets' delivering, in easily accessible form, all the acquired wisdom of Archive contributors over the years. Subjects will include: Messenger Pro Networking RISC OS and other Platforms VirtualRiscPC Wimp Programming in C These four booklets are available now, but more will be available by 15th December.
ARM Club (Birmingham only)
The ARM Club will be attending to take renewals, sell our range of software products including DiscKnight and the Eureka Magazine CD. Our team will also be on hand to offer help and advice on any RISC OS related issue.
Castle Technology (all three events)
If you haven't seen an Iyonix yet, then now is the chance. Now available in a range of cases.
CJE Micros (All three events)
CJE Micro's and 4D will be bringing as much of their wide range of RISC OS stock as possible with them, but to avoid disappointment if there is anything you wish to collect at one of the Roadshows please let us know beforehand or they may sell out before Harrow. We will not be able to bring larger items such as laser printers or CRT monitors with us but discounts will be available if ordered at a Roadshow event. Items that will be available include: memory, USB devices, mice, StrongARM and Kinetic upgrades, networking and ADSL units, RollUp keyboards, CDRW & DVDRW drives and various software items.
Icon Technology (All three events)
Icon Technology will be attending all three venues and will have the latest version (8.50) of EasiWriter and TechWriter available for sale including upgrades. Among the new features are: View Structure bars - lets you see where and what structures are in the document, Coloured borders and backgrounds with a new colour picker allowing 512 colours and all grey scales, sorting - Chapters, Sections, Lists, Figures, Paragraphs in ascending or descending order, View Guides command lets you see the gridlines of Tables, Pictures, Figures and captions etc. More details will be posted on http://www.icontechnology.co.uk.
Mathmagical Software (All three events)
MathMagical will be attending all three shows with their new, and much praised, Sudoku software. As at the recent Guildford show, this will be available in a bundle that includes TurtleChalk and ArtGraph for only 30ukp. The software package will also include a christmas puzzle giving RoadShow purchasers a chance to win a 15ukp prize. Previous purchasers of any MathMagical product may upgrade their software (bring along your old discs) to the new package for just 10ukp.
MW Software (Martin Wurthner will only be present at Birmingham / Manchester) (ArtWorks 2.5 will also be available from Icon in London)
MW Software will demonstrate and sell ArtWorks 2.5, the latest version of the platform's most popular advanced vector graphics package. Based on a rich feature set resulting from more than nine years of development by MW Software, ArtWorks 2.5 makes the creation of high-quality graphics easier than ever, both for home and professional users. This new version introduces Direct PDF Export, a first for any RISC OS application. PDF is the industry standard file format for the exchange of high-quality documents for on-screen viewing and professional printing. Rather than going through an intermediate file format with limited capabilities as was necessary up to now, ArtWorks 2.5 can generate print-ready high quality PDF files directly, including fully vector based transparency effects, high-quality bitmaps including masks, embedded fonts and CMYK colours. This is the ideal solution for anyone wanting to submit files for viewing or printing on other platforms.
Qercus / Finnybank (Birmingham / Manchester only)
Finnybank will be selling current and back copies of Qercus magazine, FD (board) games, EFF Fonts CD, Topic Art CD, and binders for Qercus. Qercus magazine continues the tradition of Acorn User and Acorn Publisher bringing the best articles in graphics, programming, &c with background on using RISC OS computers that you will want to keep. FD Games design original boardgames using the ArtWorks program for board design.
RISC OS North West User Group / Wakefield RISCOS Computer Club (Manchester only)
Choose RISC OS and you needn't be on your own. In the North West and North of England there are clubs and user groups where you can find help and an introduction into new products, together with all those messy things about how to upgrade. Both groups have dealers and developers not too far away to keep us up to date and lots of experts on various aspects of RISC OS computing within the membership. Steve Potts is intending to have on display a Bush Set Top Box (running a desktop and Chuckie Egg - as seen at Wakefield). An A9 will be on view / in use and also a Risc PC in ATX case (and possibly another Risc PC for demonstration of upgrade procedures). Steve will be networking these and bringing along his laser printer to give examples of RISC OS use. The intention is to talk to people and reassure them that local users are there to help if required.
R-Comp (Birmingham and Manchester only)
R-Comp Interactive will be showing its range of high performance RISCube and RISCbook computers powered by RISC OS 4 and RISC OS Adjust. We will also have the latest UniPrint 2 software which allows RISC OS users to print to almost any printer. Our range of networking and broadband products will be available. R-Comp will be showing latest versions of Messenger Pro, and our DialUp and NetFetch products based on our powerful Hermes software. You can come and see favorites like DataPower, HTMLEdit Studio and Grapevine, and talk to us about our plans for updates and new software in 2006.
Virtual Acorn (Birmingham and Manchester only)
VirtualAcorn allows RISC OS 4 to be run on Windows PCs. They will be displaying both VirtualRPC-SE, which comes with RISC OS 4.02, and VirtualRPC-Adjust, which comes with RISC OS 4.39. They also hope to have the latest developments on show.
The Venues are as follows:-
Thursday 15th December
The Bassett Suite
West Bromwich Albion Football Club
The Hawthorns
West Bromwich
West Midlands
B71 4LF
The opening time will be from 4.00 p.m - 8.00 p.m
Friday 16th December
Brittania Hotel Stockport
Dialstone Lane
Offerton
Stockport
Cheshire
SK2 6AG
Opening time will again be from 4.00 p.m - 8.00 p.m
Saturday 17th December
The Garden Suite
Best Western Cumberland Hotel
St Johns Road
Harrow
Middx
HA1 2EF
The opening time will be 11.00 a.m - 3.00 p.m
For further details contact
Paul Middleton
Managing Director
RISCOS Ltd
02920 464020