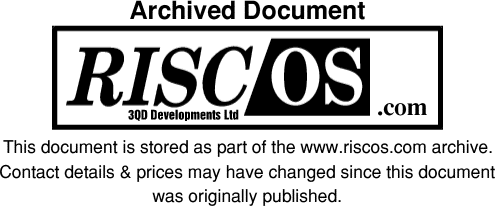 RISCOS Ltd
PRESS RELEASE 27th September 1999
RISC OS 99 Show Information
The RISC OS 99 Show to be held at the Queens Stand, Epsom Racecourse on Saturday 30th October and Sunday 31st October will be the place to see the latest hardware and software for use with RISC OS.
The RISCOS Ltd stand will have a number of new developments on display. These include 2 live webcam displays.
Look at http://www.riscos.com/cam/index.htm to see a live feed from our stand.
Also on show will be the latest development versions of !Printers which can now link to standalone Ethernet connected machines and also to machines shared from PC's. If you have a Mac and want to send files to it over Ethernet then we have the latest version of !Omniclient on preview which can view shared Macintosh folders. Please don't ask to take away copies of these yet as they are not completed yet, but we want to show that development work to support the latest developments is actually happening.
The "Cuckoo" and "RiscBOOK" machines will whet your appetite for the future of personal computers running RISC OS.
The "Cuckoo" will look just as good on your desktop as the fashionable iMac computers, whilst the "RiscBOOK" will be all you need to carry around with you to keep on working, and playing without wincing.
If you have the original RISC OS 4.00 FlashROM's then bring them along to the stand for a free re-flash to the latest version 4.02. We will reprogram them for you whilst you wait, (along as the queues are not too big!).
Did you always want a full set of RISC OS Programmers Reference Manuals, Toolbox Manuals and Basic Manual in PDF or HTML format ? Then we have the answer! The RISC OS Manuals CD costs only £12.50 including VAT and delivery and will be available in late November as the perfect Christmas present.
Want to know more? Come along and ask the experts. The entire RISC OS Team will be present on the stand and there will be an hour long session in the Presentation Theatre, where we will try to answer as many questions as we can about the future for RISC OS.
For further details contact:- Paul Middleton Managing Director RISCOS Ltd
Tel 029 2046 4020
Fax 029 2044 0071