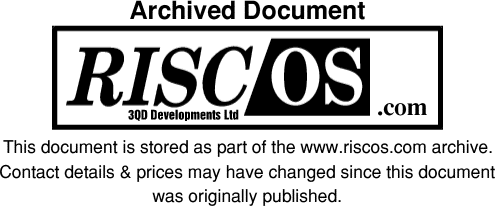 PRESS RELEASE 25/06/04
Select 3 Issue 4 now available for download by subscribers.
RISCOS Ltd is pleased to announce that the latest update of the RISC OS Select scheme - Select 3i4 is now available for download by subscribers from the Select web site. In keeping with our policy of allowing subscribers to see what is available before committing to a new subscription, anyone whose membership was valid up until March 2004 will be able to download this latest update even if they haven't renewed yet. We hope of course that having downloaded this latest update that subscribers will want to renew their subscriptions!
RISCOS Ltd is also pleased to report that Castle have approached RISCOS Ltd with a view to incorporating some of the Select features into their Merlin project.
Select 4 development has been underway since before the completion of the Adjust ROM project back in May and the first fruits of Select 4 are expected before Christmas. Full details are as usual under constant review but one item we can announce will be the completion of the full set of Postscript compatible fonts to match those originally planned by Acorn way back in RISC OS 2 days.
| | |
| --- | --- |
| Acorn Name | Postscript name |
| | |
| Clare.Medium | AvantGarde-Book |
| Clare.Medium.Oblique | AvantGarde-BookOblique |
| Clare.Demi | AvantGarde-Demi |
| Clare.Demi.Oblique | AvantGarde-DemiOblique |
| Robinson.Demi | Bookman-Demi |
| Robinson.Demi.Italic | Bookman-DemiItalic |
| Robinson.Light | Bookman-Light |
| Robinson.Light.Italic | Bookman-LightItalic |
| Corpus.Medium | Courier |
| Corpus.Bold | Courier-Bold |
| Corpus.Bold.Oblique | Courier-BoldOblique |
| Corpus.Medium.Oblique | Courier-Oblique |
| Homerton.Medium | Helvetica |
| Homerton.Bold | Helvetica-Bold |
| Homerton.Bold.Oblique | Helvetica-BoldOblique |
| Homerton.Narrow | Helvetica-Narrow |
| Homerton.Narrow.Bold | Helvetica-Narrow-Bold |
| Homerton.Narrow.Bold.Oblique | Helvetica-Narrow-BoldOblique |
| Homerton.Narrow.Oblique | Helvetica-Narrow-Oblique |
| Homerton.Medium.Oblique | Helvetica-Oblique |
| NewHall.Bold | NewCenturySchlbk-Bold |
| NewHall.Bold.Italic | NewCenturySchlbk-BoldItalic |
| NewHall.Medium.Italic | NewCenturySchlbk-Italic |
| NewHall.Medium | NewCenturySchlbk-Roman |
| Pembroke.Bold | Palatino-Bold |
| Pembroke.Bold.Italic | Palatino-BoldItalic |
| Pembroke.Medium.Italic | Palatino-Italic |
| Pembroke.Medium | Palatino-Roman |
| Sidney | Symbol |
| Trinity.Bold | Times-Bold |
| Trinity.Bold.Italic | Times-BoldItalic |
| Trinity.Medium.Italic | Times-Italic |
| Trinity.Medium | Times-Roman |
| Churchill.Medium.Italic | ZapfChancery-MediumItalic |
| Selwyn | ZapfDingbats |