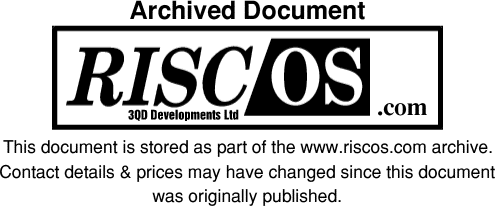 PRESS RELEASE
22nd April 2002

1st Select CD version in final testing.

RISCOS Ltd has released the final test version of the 1st CD release to its internal test group. This version will be made publicly available on the Select Web Site as soon as possible.
The first CD is still on target for shipment to subscribers at the end of April.
The CD will include the latest version of the RISC OS kernel version 4.29 with supporting Boot sequence and applications.
The RISC OS Select Installer has been substantially improved to ease the process of upgrading from either RISC OS 4.0x to Select or from the currently released Select upgrades to the current version.
Some of the new features of this Select release include:-
DHCP support.
Multi-User Logon.
This is a frontend to the new Multiple Users features of RISC OS Select.
A comprehensive multi-tasking Acorn Replay release.
This will be a collection of all the various items that were released on various cover CD's and by Acorn to developers along with a trial plugin to control desktop Movie playback.
A preview of the new !Printers+ with some new PDF's.
!Printers+ is a preview version which will support network printers, multiple output bins, printer bundles, automatic printer recognition and can co-exist alongside existing !Printers 1.64a
A preview of the new OmniClient with Appletalk support.
Full details of the improvements available in this release of Select will be available shortly.
For further details contact:-
Paul Middleton paul@riscos.com
Managing Director,
RISCOS Ltd,
3 Clarendon Road,
Cardiff,
CF23 9JD
Tel: 02920 464020
Fax: 02920 492326
About RISCOS Limited
RISCOS Ltd develops the RISC OS Operating System under license from Pace Micro Technology plc for use on Desktop computers.
####

RISC OS is a trademark of Pace Micro Technology plc.
All other brand and product names are trademarks or registered trademarks of their respective owners.