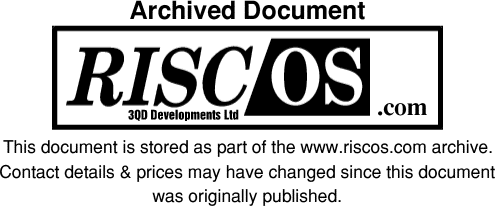 PRESS RELEASE 21/06/06
RISC OS Northern Roadshow 2006
The RISC OS Roadshow will continue in 2006 with visits "up North" in the week prior to the planned South East RISC OS Show on Saturday October 21st 2006.
Regrettably it was not possible to find suitable venues north of Manchester for the Christmas Roadshow 2005, but we intend to remedy this for 2006.
The plan is for the Roadshow to hit Glasgow on Wednesday 18th October, followed by Newcastle on Thursday 19th October. The Roadshow will then finish at the Guildford Show on Saturday 21st.
As always any other RISC OS Software or Hardware developers are welcome to join the Roadshow. The costs will again be dependent on the number of companies that join the Roadshow. Local suggestions for venues are welcomed, but tentative venues have been set as Glasgow Rangers Football Ground and Newcastle United Football Ground.
For further details contact
Paul Middleton
Managing Director
RISCOS Ltd
02920 464020