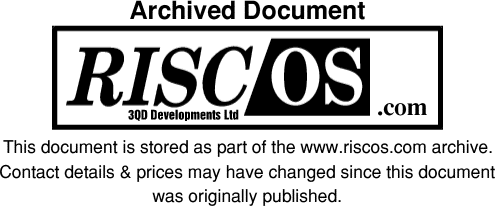 PRESS RELEASE
20th October 2001

Ron is GO!

RISCOS Ltd today announces that the project to implement RISC OS on the Psion netBook is to be recommenced.

Following uncertainty over the past year as to the continued availability of the netBook the project which was originally announced in January 2000 was put on hold. However in the past few months assurances have been received that the netBook would continue in production and that new versions would appear.
Funding for the development of Ron ( RISC OS on netBook) has been secured and it is anticipated that a preview will be available at the RISC OS South West Show in March 2002. Fully functioning versions are not expected until Summer 2002. No price or delivery method has been decided as yet.
Managing Director of RISCOS Ltd Paul Middleton said "It is wonderful news that are able to continue with development of Ron. The SA1100 processor used in the netBook offers 26 bit operational modes that will allow the use of all the current Acorn / RISC OS software. With a 640 x 480 touch screen it will give the same screen display as the A5000 range, but with the speed of a StrongARM Risc PC, in a device that only weighs a few pounds and lasts for up 10 hours between recharges."
New manufacturing methods are expected to reduce the price of the netBook next year, and the development of Ron will then lead to further support for the SA1110 range of processors leading to new opportunities for hardware developers.
The current netBook features an SA1100 processor running at 190 MHz along with 32 MB Flash RAM memory.
For further details contact:- Paul Middleton paul@riscos.com
Managing Director,
RISCOS Ltd,
3 Clarendon Road,
Cardiff,
CF23 9JD
Tel: 02920 464020
Fax: 02920 492326
About RISCOS Limited
RISCOS Ltd develops the RISC OS Operating System under license from Pace Micro Technology plc for use on Desktop computers.
####
netBook is a trademark of Psion Digital Ltd
RISC OS is a trademark of Pace Micro Technology plc.
All other brand and product names are trademarks or registered trademarks of their respective owners.