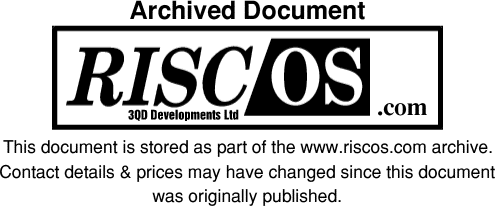 PRESS RELEASE
18/06/03
StubsG and IFCLib programming resources available for Free download.
StubsG and related libraries release 0.03
RISCOS Ltd is pleased to announce the full free public release of version 0.03 of the StubsG (Generic Stubs) and related libraries for RISC OS developers. The full packages are available for download at http://support.riscos.com/Support/Resources/Libraries/
This release contains an update for the Acorn C/C++ package, providing generic support for all versions of SharedCLibrary. In addition, 26 bit and 32 bit versions of other libraries are also supplied. This release may be used as a supplement for the updated Acorn C/C++ package provided by Castle Technology Ltd.
Who should use these libraries
These libraries are intended to remove the requirement for additional distribution of the most recent versions of the SharedCLibrary. Developers indending to distribute their applications to 26bit and 32bit platforms and who do not wish to burden the user with the installation of further components are strongly encouraged to use the StubsG libraries. Developers wishing to distribute their software to users with machines using Internet 4 are strongly encouraged to use the internet libraries in their 'COMPAT_INET4' variants. Refer to the TCPIPLibs documentation for more details.
Supplied files
Documentation for the libriaries provided with this release can be found within the directory 'Docs'. In particular, the document 'StubsG/txt' describes the purpose and use of the 'generic' C library stubs in detail and should be referred to first. Updated libraries have been supplied for : Toolbox Internet development (TCP/IP Library) RISC_OSLib FlexLib Shared C library (stubs) The !Allocate application has been supplied, linked with StubsG, for developers use. A 32 bit-capable CMunge has been supplied in binary only form to reduce the size of this distribution. Full sources can be obtained from the authors.
Distribution and use
This distribution is provided free of charge by RISCOS Ltd. It may be supplied without charge by third parties without limitation, providing the files contained within are not modified. Code, or others works, derived from this distribution may be distributed freely and without limitation. This applies to all parts of the StubsG distribution with the exception of the CMunge binary release, and the TCP/IP libraries which are covered by their own distribution licenses. Consult the relevant sections for more details.
IFCLib
IFCLib is a very simple library for interfacing to the Select 3 'ImageFileConvert' module stack. The ImageFileConvert system, incorporating parts of ImageFileRender initially introduced for Select 2, allows images of one type to be converted to another through a single SWI interface. The IFCLib library provides a simple interface to this SWI, as an example of its use and for the use of other developers.
For further details contact:-
Paul Middleton paul@riscos.com
Managing Director,
RISCOS Ltd,
3 Clarendon Road,
Cardiff,
CF23 9JD
Tel: 02920 464020
Fax: 02920 492326
About RISCOS Limited
RISCOS Ltd develops and sub-licences the RISC OS Operating System under licence from Pace Micro Technology plc for use on Desktop computers.
####

RISC OS is a trademark of Pace Micro Technology plc.
All other brand and product names are trademarks or registered trademarks of their respective owners.