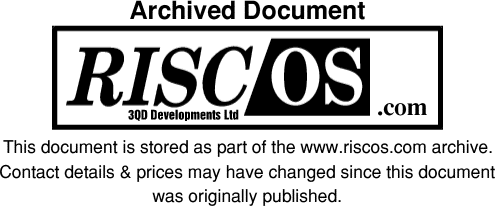 RISCOS Ltd
PRESS RELEASE 17th September 1999
RISC OS 4 Orders completed on the 1st Anniversary of Acorn Workstations Division closure
RISCOS Ltd Managing Director, Paul Middleton today announced that all the current orders for RISC OS 4 upgrades had been processed on the 1st Anniversary of the historic closure of the Acorn Workstations Division. He went on to say that " it hardly seems a year, since the news first flashed out, that Acorn had postponed the Acorn World 98 Show, cancelled the Phoebe Risc PC 2 project and laid off 90 odd staff. However, in the last 12 months we have seen the launch of RISC OS 4 on schedule on 1st July, the announcement of two new A7000 clones from RiscStation and MicroDigital, Risc PC's and A7000+ computers being built by Castle Technology and finally a brand new machine being planned by Millipede Electronic Graphics."
The programming team at RISCOS Ltd are now working on the next developments of RISC OS 4 and beyond, with recent interest from both Korea and Japan showing that RISC OS is by no means dead.
Other announcements of interest to current Risc PC users should also be made very shortly, and a visit to the RISC OS 99 Show at Epsom Downs race course on Saturday 30th October and Sunday 31st October should be of great interest to Acorn RISC OS computer users, both old and new.
For further details contact:- Paul Middleton Managing Director RISCOS Ltd
Tel 029 2046 4020
Fax 029 2044 0071