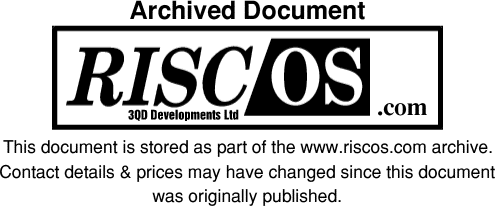 PRESS RELEASE
14th June 2002

Special offers from RISCOS Ltd on 3rd Anniversary of RISC OS 4 release.

To celebrate the 3rd Anniversary of the release of RISC OS 4 in July 1999 we are offering three promotions for RISC OS 4.
Offer 1.
RISC OS 4.02 Upgrade (full pack with bundled applications)
UK £ 85
EC £ 87
Zone 1 £ 75
Zone 2 £ 77
This offer is available for all Risc PC and A7000 / + users to upgrade their computers to RISC OS 4.
The pack includes a free copy of the RISC OS 3 Manuals CD and the following bundled applications.
!Vector - An Enhanced Drawing package
!ImageFS - An Image translation program which can convert .WMF, .GIF files and .BMP files to RISC OS equivalents.
!Writer - Basic Word processor which can be upgraded to !Easiwriter or !Techwriter
!Organizer - A personal contacts and agenda program
!Taborca - An Adobe PDF compatible file generator
!Synth - A MIDI file player, which can playback MIDI files without the use of external sound generators.
Offer 2.
RISC OS 4.02 ROM only upgrade (for existing RISC OS 4 Users)
UK £ 80
EC £ 82
Zone 1 £ 71
Zone 2 £ 73
This offer is only available to users who have already purchased a full price RISC OS 4 upgrade.
It only contains a set of RISC OS 4 ROMs and is aimed at users who have multiple RISC OS
machines which they wish to upgrade.
Offer 3.
RISC OS 4.02 Upgrade and 1 Year RISC OS Select subscription
UK £ 175
EC £ 177
Zone 1 £ 154
Zone 2 £ 156

This offer includes the full RISC OS 4 upgrade as listed in Offer 1 and also includes a years subscription to the RISC OS Select Scheme.
All the above prices include VAT (for UK and EC) and delivery.
Zone 1 = Africa, USA, Canada etc
Zone 2 = Australia, New Zealand, Hong Kong etc
Orders for RISC OS 4 and the Select Scheme should be sent to sales@riscos.com
The above offers are available until 31st July 2002.
Dealer Discounts and Authorised Installer Discounts are also available on the above offers.
For further details contact:-
Paul Middleton paul@riscos.com
Managing Director,
RISCOS Ltd,
3 Clarendon Road,
Cardiff,
CF23 9JD
Tel: 02920 464020
Fax: 02920 492326
About RISCOS Limited
RISCOS Ltd develops the RISC OS Operating System under license from Pace Micro Technology plc for use on Desktop computers.
####

RISC OS is a trademark of Pace Micro Technology plc.
All other brand and product names are trademarks or registered trademarks of their respective owners.