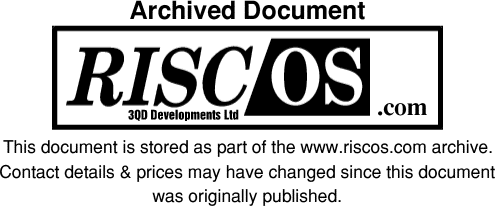 ---
RISC OS 4 to support interlaced PAL and NTSC screen displays.
As a spin off from the development work on Embedded RISC OS, we will shortly be releasing a new version of the RISC OS 4 ROM sets - RISC OS 4.05.
RISC OS 4.05 will provide support for Interlaced screen modes in PAL and NTSC on both Risc PC and A7000+ computers.
RISC OS 4.05 ROMs will be available as an upgrade for RISC OS 3.7 ROM users for £120 inc VAT and postage.
If a user already has a RISC OS 4.02 ROM installed then the 4.02 ROMs may be exchanged for a RISC OS 4.05 ROM set for £60 inc VAT and postage.
NB RISC OS 4.05 does not offer any new features beyond those already included in RISC OS 4.02, but does include some improvements from later versions of RISC OS, that were previously featured as ROM patches.
RISC OS 4.05 is expected to be available from early March 2003.
This release of RISC OS is primarily aimed at users of Millipede Professional Graphics systems, and other users who have been unable to utilise the Alphalock systems, due to changes to the memory map and page tables between RISC OS 3.7 and RISC OS 4.
For further details or to place an order please contact:-
RISCOS Ltd
3 Clarendon Road
Cardiff
CF23 9JD

Tel: 02920 492324
Fax: 02920 492326
sales@riscos.com