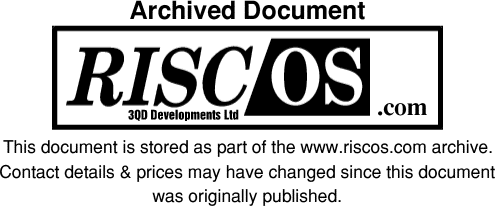 RISCOS Ltd
PRESS RELEASE 11th August 1999
RISC OS 4 Shipments update
In answer to many peoples queries RISCOS Ltd can confirm that shipments to end users have started with over 200 RISC OS 4 ROM sets having been programmed and despatched so far.
However we are having two problems:-
1. The current ROM sets are not suitable for all types of machines.
2. The availability of ROM's has been insufficient for our needs.
Consequently, we are reverting to using standard (masked) ROMs until supply of suitable FlashROM becomes available which is not likely to be until November. Delivery of standard ROMs will take 5 weeks from now, and hence we shall not be shipping any further orders until the middle of September. We should like to assure users that these delays are purely down to supply problems with the ROM's and not due to problems with RISC OS 4 itself. Most importantly we should like to point out that the level of orders has exceeded expectations and we should like to thank users for their patience, and their support of RISCOS Ltd.
RISC OS 4 is obtainable from Dealers and Authorised Installers or direct from RISCOS Ltd.
Orders can be placed via email to RISCOS Ltd. The cost is £120, including VAT and p&p within the EU. Deliveries outside the EU cost £107.50 including p&p.
For further details contact:- Paul Middleton Managing Director RISCOS Ltd
Tel 02920 464020
Fax 02920 440071