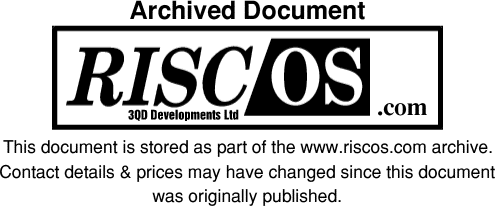 PRESS RELEASE 11/07/06
New reduced price for RISC OS 4.39 "Adjust" ROMs.
RISCOS Ltd have today announced the immediate reduction of the price of RISC OS 4.39 "Adjust" ROMs to a new standard price of £79 incl postage for UK users.
The price for users overseas is £85.
Managing Director Paul Middleton explained that "this price reduction has come about following the success of the campaign to get users to upgrade to RISC OS Adjust. In the past year nearly 500 sets of Adjust ROMs have been sold. This now gives RISC OS Software Developers the sound user base from which to justify the inclusion of RISC OS Select and Adjust features into their products."
For further details contact
Paul Middleton
Managing Director
RISCOS Ltd
02920 464020