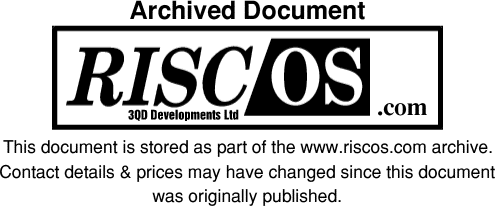 ---
Andrew Rawnsley leaves RISCOS Ltd
With effect from 1st February former Technical Director and founding member of RISCOS Ltd Andrew Rawnsley has left the company, to pursue his own RISC OS-based software development business.
Commenting on his departure, Andrew said, "I have very much enjoyed working with the RISCOS Ltd team for the past year, helping to build the company from a seed of imagination into a healthy, growing business. When we started, none of us knew what to expect, and what has been achieved in such a short space of time is phenomenal. Now I have seen RISCOS Ltd through its fledgling period, it is time to step back, and return to developing the supporting software to run on RISC OS."
Paul Middleton, Managing Director said, "I'd like to thank Andrew for his hard work over the last year, and wish him all the best for his future software developments - no doubt we'll be hearing much more on this soon!"
Paul Middleton, Andrew Rawnsley, Matthew Bullock and Justin Fletcher were the founding members of RISCOS Ltd who licensed the RISC OS operating system from Element 14 (formerly Acorn Computers) of Cambridge (now owned by Pace Micro Technology plc) in March 1999 and launched it as an upgrade for current Risc PC and A7000 computers in July 1999. Over 2000 upgrades have since been sold, and RISC OS 4 is now included on machines being built by Castle Technology and RiscStation. Very soon new machines from Microdigital and Millipede will open the market to the widest range of RISC OS machines ever available.
Andrew will continue to attend User Group meetings as part of the RISC OS 4 Roadshow 2000.
For further details contact:- Paul Middleton Managing Director RISCOS Ltd
Tel 029 2046 4020
Fax 029 2044 0071