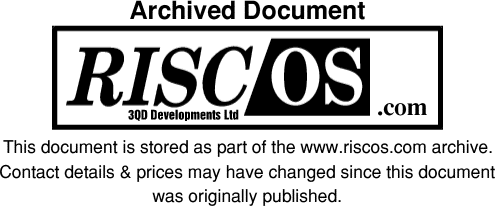 RISCOS Ltd
PRESS RELEASE 7th July 1999
RISC OS 4 Launched
RISCOS Ltd are pleased to report that on Thursday 1st July 1999, RISC OS 4 was released as an upgrade for Acorn A7000, A7000+ and Risc PC computers. Originally developed for use with the cancelled, Phoebe Risc PC 2 project, RISC OS 4 was licensed from the Element 14 Division of Acorn Computers in March this year and has been completed and brought to market by RISCOS Ltd. Amongst the many new features of RISC OS 4 are support for hard discs up to 256 GB in size, long filenames and most importantly a total re-write of the operating system kernel which gives very significant speed improvements without any change of processor.
M.D of RISCOS Ltd Paul Middleton stated that he "was very proud of the efforts of the very small programming team at RISCOS, who in less than 4 months have been able to fix a large number of bugs and enhance the version of RISC OS 4 supplied by Acorn to produce an operating system that will take Acorn computer users into 2000 and beyond." To provide a complete package for new users RISC OS 4 will ship with a bundle of commercial software.
These include :-
!Writer (from the authors of !Easiwriter and !Techwriter) for producing properly formatted letters and documents.
!Vector - a very powerful drawing package to supplement the inbuilt !Draw program.
!Organizer to help organise your life and keep track of diary, alarms and addresses.
!ImageFS to transparently convert between RISCOS and foreign graphics formats.
!Taborca which allows the generation of PDF (Portable Document Format) files from RISC OS files, without needing to use a PC or Mac.
and finally a selection of images from the PhotoDisc Image library in a series of resolutions, suitable for screen display or high quality printing.
Advance orders for RISC OS 4 now exceed 750 copies and the announcement at the Acorn South East Show last week, that RISC OS 4 would ship on FlashROM is certain to increase orders. The use of FlashROM means that each copy of RISC OS 4 can be personalised. This means that, for example, foreign language versions of RISC OS 4 can be produced in very small quantities, or more popularly that the owners details can be burned into the ROM. This is bound to be an important security feature. It is important to point out that the FlashROM is NOT use re- programmable. The FlashROM must be removed from the machine to be re-programmed and hence it retains the ability of RISC OS to prevent destruction of the computer by viruses. RISC OS 4 has been widely welcomed by a number of companies looking to produce new RISC OS based computers, and RISCOS Ltd expects to announce its first official RISC OS 4 licensees very soon.
For further details contact:- Paul Middleton Managing Director RISCOS Ltd
Tel 02920 464020
Fax 02920 440071