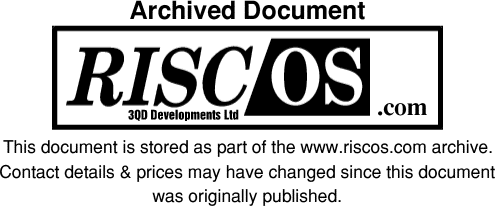 PRESS RELEASE 06/12/2008
"Virtually Free" RISC OS 4.02 for use with Emulators announced.
RISCOS Ltd has today announced the immediate availability of the new "Virtually Free" version of RISC OS 4.02 for use with Emulators (Virtual Computers).

The licence to use RISC OS 4.02 on a single computer now starts from only £5.

RISC OS "Virtually Free" is a fully licensed complete package. It consists of a single 4 MB zip file containing a RISC OS 4.02 ROM image with the !Boot structure and other necessary applications and utilities. It is designed to be unzipped and installed in the emulator itself with most of the work being done from within the host environment.

Simple step by step instructions are provided for a number of emulators designed to run RISC OS.

This package is not suitable for use with "real" RISC OS computers. Those with "real" computers should take a look at the RISCOS Upgrade CD, which was announced earlier this week.

RISCOS Ltd Managing Director Paul Middleton explained that ..

"We have been looking at ways of making a low cost, or 'Virtually Free' version of RISC OS available for some time. With RISCOS Ltd having now confirmed it's ownership of all versions of RISC OS produced since February 1999 we are now in a position to offer a low cost product that acts as an introduction to RISC OS."

The costs of the "Virtually Free" RISC OS 4.02 are:-

Download version - £5 from website (from Monday)

CD version by post £10 in the UK and £12.50 overseas.

Orders can be placed by telephone 02920 619942 or by email to sales@riscos.com or by fax to 02920 213156.

CDs will be available to take away at the MUG Show on Saturday 6th December 2008.

Online ordering with payment via PayPal and a range of debit and credit cards will be available via the RISCOS Ltd sales website at:
http://sales.riscos.com/ from Monday 8th December.