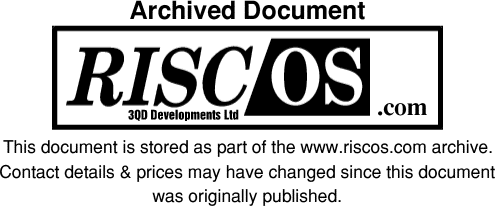 RISCOS Ltd
PRESS RELEASE 5th March 1999
RISCOS Ltd acquires license to develop and release RISC OS 4
Following extended negotiations with Acorn Computers Ltd, recently rebranded as Element 14 Ltd, RISCOS Ltd is pleased to announce that it has now secured an exclusive license to complete the development of RISC OS 4. It will bring it to market as an upgrade for current Risc PC and A7000 / A7000+ users and for new machines dedicated to the desktop market, within the next few months.
Now that RISCOS Ltd has access to the full sources to RISC OS it should be possible to work to remove the dependency of RISC OS on the current peripheral chips such as IOMD and VIDC. Once this is done it will be possible for many more manufacturers to produce RISC OS compatible products. It is hoped for example that an upgrade will be available for existing Risc PC users in order to keep their existing Risc PC case and replace the motherboard with a new improved version this year.
Chief Executive of Element 14, Stan Boland said "I am proud to announce, that after having originally developed RISC OS, Element 14 now feels that the time is right to offer the other companies who have supported Acorn for the past 20 years the chance to continue to develop the RISC OS market" Senior Vice President of Marketing, Andy Mee went on to say that " By licensing RISC OS 4 to RISCOS Ltd, there will be more chances for both new and existing users to protect their current investment in Acorn computers and also benefit from the advances that the dedicated RISC OS developer community is able to offer in the future."
Managing Director of RISCOS Ltd, Paul Middleton commented "The announcement by Acorn that they were closing the Workstations Division last year had sent shockwaves through the Acorn community. I see the signing of this agreement as a very positive sign for current Acorn users." He went on to say that "Whilst Phoebe Risc PC 2 was cancelled by Acorn for very good reasons due to the current economic and commercial climate, users should not be dissuaded from buying RISC OS based computers."
Software developers who were worried about the continued availability of Acorn computers will now be able to confidently plan to release products that can take advantage of the new features of RISC OS 4 that were originally developed for use with Phoebe on a choice of new hardware as well as the existing Risc PC and A7000's
For further information contact: Paul Middleton Managing Director RISCOS Ltd
Tel 01222 464020
Fax 01222 440071