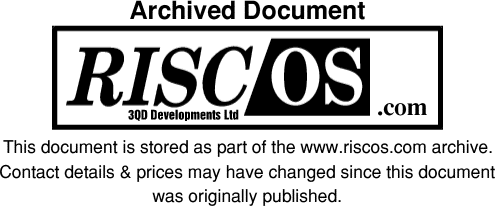 PRESS RELEASE 03/12/2008
Softload version of RISC OS 4.02 and 4.39 available for RISC OS 3.6 (and above) users.
The RISC OS Upgrade CD -
A major RISC OS upgrade for RISC OS 3.6, 3.7 and 4.02 users for only 20 GBP.
RISCOS Ltd are pleased to announce the new "RISC OS Upgrade CD" to be released at the MUG Christmas show on Saturday 6th of December.
If your current operating system is RISC OS 3.6 or 3.7 this CD will upgrade your computer to RISC OS 4.02.
If you are already running RISC OS 4 this CD will upgrade your computer to RISC OS 4.39 'Adjust'.
No need to open up your machine and fit new ROMs. Just click on the !Install icon on the CD to install your upgraded operating system.
Not a 'cut-down' version but a full implementation of RISC OS 4.02 or 4.39 as a soft-load version instead of physical ROMs.
Completely re-written installer with new tools to let you easily switch between the new OS and your original if required.
Can be installed on any model with RISC OS 3.6, 3.7 or 4.0x and at least 20 MB of free RAM.
Suitable for RiscPC, A7000, A7000+, RiscStation 7500, Microdigital Mico & Omega and VirtualRPC-SE & -SA.
For RISC OS 3.6 or 3.7 users RISC OS 4.02 will give you a significant speed increase.
With RISC OS 4.39 the new CDFS shows mixed case filenames on CDs properly and lets you read DVDs if you have a suitable drive.
RISC OS 4.39 includes an Image Viewer which will display many foreign file formats and can show folders of image files as thumbnails.
Got a broadband internet connection? RISC OS 4.39 offers built-in DHCP networking for plug and play networking (if you have a suitable network card).
Your boot drive must be old format if you have RISC OS 3.6 or 3.7 but you can use the new long filenames RISC OS 4 format on any additional drives.
The normal price is 29 GBP but you can pick up a copy for just 20 GBP at the show.
Give yourself a Christmas present. Banish RISC OS 3.6 or 3.7 and enjoy the benefits of the extra features of a later operating system at a bargain price.
Orders for the RISC OS Upgrade CD can be placed by telephone to 02920 619942 or by email to sales@riscos.com right now.
CDs will be available to take away at the show.
If you can't make it to the show then there is a £1.50 delivery charge in the UK, £2.00 Europe and £2.50 USA and Australasia.
Online ordering with payment via PayPal will be available via the RISCOS Ltd sales website at http://sales.riscos.com/ from Monday 8th December.