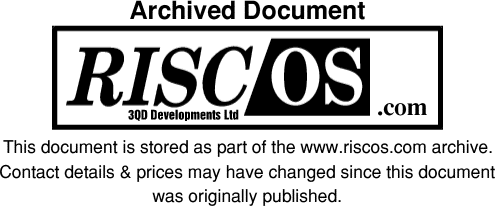 PRESS RELEASE 02/09/03
RISCOS Ltd Licenses RISC OS 4 for general use with VirtualAcorn Emulators
RISCOS Ltd and Virtual Acorn have signed an Agreement to allow for the distribution of RISC OS 4 ROM images with the Virtual Acorn range of Emulators.
Paul Middleton, Managing Director of RISCOS Ltd said "I am pleased that we have now reached agreement to allow a fully licensed copy of RISC OS to be shipped with the Virtual Acorn Emulator program. Whilst it is regrettable that the RISC OS market has not seen the launch of the planned RISC OS portable computers, this Agreement will allow RISC OS users to continue to enjoy the RISC OS experience on a range of platforms."
Aaron Timbrell of Virtual Acorn went on to say that "We are delighted to be working with RISCOS Ltd and to be supporting the use of RISC OS 4 with VirtualAcorn products. We will continue developing VirtualRPC as both a stand alone product and for the MicroDigital Alpha."
It is intended that new more powerful versions of VirtualAcorn will supersede VirtualA5000.
VirtualRPC is already fully compatible with the RISC OS Select system, and subscribers to the Select Scheme will in the future be able to install a special VirtualRPC version of the Select ROM image to further improve the Select experience.
Pricing details and availability of the new Virtual RPC emulator will be announced shortly.
Software developers interested in exploiting their products using the Emulator should contact VirtualAcorn for details of volume licensing of VirtualRPC.
For further details contact
Aaron Timbrell aaron@virtualacorn.co.uk
VirtualAcorn
86 Turnberry
Home Farm
Bracknell
RG12
Tel: 01344 452868
http://www.virtualacorn.co.uk/
Paul Middleton paul@riscos.com
Managing Director,
RISCOS Ltd,
3 Clarendon Road,
Cardiff,
CF23 9JD
Tel: 02920 464020
Fax: 02920 492326
http://www.riscos.com/

All brand and product names are trademarks or registered trademarks of their respective owners.