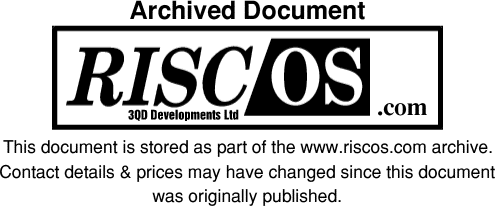 ---
!Printers+ Frontend source to be released via SourceForge.
RISCOS Ltd is pleased to publicly release the announcement made to attendees at its Annual General Meeting on Friday 27th September that it will be releasing the Source Code to the Frontend of !Printers+ as a publicly accessible collaborative project via the SourceForge Web Site.
SourceForge.net is the world's largest Open Source software development  website, with the largest repository of Open Source code and applications available on the Internet. http://www.SourceForge.net provides free services to Open Source developers.
We would like to point out that this does not signify that RISC OS is to become an Open Source Operating System, but in order to allow greater development of certain components we are making this release of !Printers+ source for non-chargeable use by Developers.
The actual availability of the code on the SourceForge site will be announced at a later date. Please note that this release will not include the back-end PrinterDumpers. We will endeavour to support developers who need help in gaining information from Printer Manufacturers about their current Printer ranges, or who require detailed information of the back-end functions of !Printers+.
Any Company or Individual who would be interested in administering the SourceForge site should contact mailto:developer@riscos.com