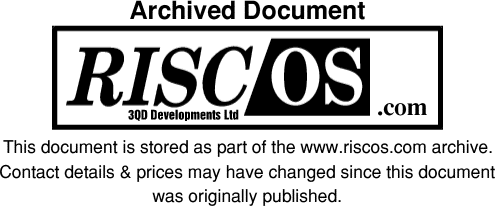 RISCOS Ltd
PRESS RELEASE 1st September 1999
RISC OS 4 Shipments resume
Shipments of RISC OS 4 have resumed after a quicker than expected delivery of new ROM's.
Due to the ongoing Worldwide shortage of FlashROM, RISC OS 4 will now ship using One Time Programmable (OTP) ROM's.
These have the advantage of being able to be programmed individually, rather than produced in bulk. It is therefore still possible for the ROM's to be personalised to include unique user identification for security purposes, or to produce small volumes of specialised versions for customers.
The ROM's will ship with RISC OS 4 version 4.02. This version is functionally indentical to the original version 4.01 which was supplied on FlashROM.
There will be a softload patch to cover the minor differences for users of version 4.01 FlashROM's :-
* Configure
The 'Help' menu option no longer gives an error.
* BASIC
Fix for assembler LDRH instructions which previously would be erroneously reported as syntax errors.
* DDEUtils
Fix for applications attempting to use throwback when no throwback handler is present.
* DOSFS
Fix for -'s in filenames.
* InternationalKeyboard
Now supports additional countries. Use Ctrl-Alt-F12, followed by Alt-<number of international dialling code for country> to select a different country.
The very small number of users who purchased RISC OS 4 version 4.00 at the Acorn South East Show may apply for a free upgrade to the 4.02 OTP ROM's.
Users of FlashROM's do not need to upgrade to the OTP ROM's unless they are having stability problems as detailed in the "StrongARM compatability" note included with the FlashROM shipments.
User reports on RISC OS 4 have been universally positive, with the speed of boot-up and stability being most noticeable.
RISC OS 4 is obtainable from Dealers and Authorised Installers or direct from RISCOS Ltd.
Orders can be placed via email to RISCOS Ltd. The cost is £120, including VAT and p&p within the EU. Deliveries outside the EU cost £107.50 including p&p.
For further details contact:- Paul Middleton Managing Director RISCOS Ltd
Tel 02920 464020
Fax 02920 440071