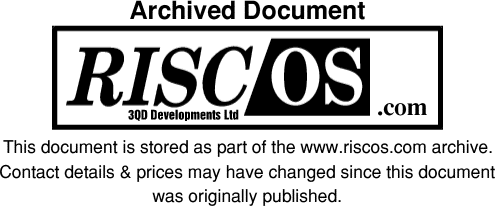 PRESS INFORMATION
FOR IMMEDIATE RELEASE
Contact: Melanie Pankhurst
ANT +44 (0)1223 716411
melanie.pankhurst@antlimited.com
Paul Middleton
RISCOS Ltd
+44 (0) 2920 464020
paul@riscos.com
Ref: EMY1041

RISCOS Ltd acquires the rights to support, develop and market the ANT Internet Suite
The product will now be known as the RISC OS Internet Suite
Cambridge, 30 April 2001: ANT Limited has announced an agreement with RISCOS Ltd whereby RISCOS has acquired the rights to take on all future sales, development and end-user support of the ANT Internet Suite, which will now be called the RISC OS Internet Suite. The Internet Suite is a complete dial up network package consisting of the RISC OS Fresco web browser, FTP client and Marcel Email. The Fresco™ web browser is the only component of the Suite for which control will remain with ANT and is not included in the agreement.
"I'm delighted that RISCOS Ltd has taken over support for the RISC OS Internet Suite. As the first integrated Internet connection package for use with RISC OS, it set the standards by which other packages are now judged," said Paul Middleton, Managing Director of RISCOS Ltd. "This move will allow us to offer continued availability of the Internet Suite to the large market of desktop users who currently use the suite, as well as new users."
Simon Woodward, President and CEO of ANT Limited added, "The handing over of the ANT Internet Suite to RISCOS Ltd is a very logical progression of the reason for which RISCOS Ltd was set up. RISCOS will be integrating some of the key components of the newly named RISC OS Internet Suite into future versions of RISC OS, and then allow users to make their own choice of web browser and email client. Meanwhile ANT will continue its own development of Fresco web browser and SimplEmail technology for the embedded market space."
more
EMY1041/2
ANT has been focussing its software on the embedded market since 1997. The Fresco browser, ANT's flagship product, is fast becoming the browser of choice with technology leaders in the embedded market segment, particularly with products such as set top boxes, DVD players and PDAs. It has recently been successfully licensed for use in the Bush Internet TV and Quiero digital TV STB network in Spain.
Upgrades from the current ANT Internet Suite to the new RISC OS Internet Suite will be available from RISCOS Ltd both separately and as part of the new RISC OS Select scheme.
Availability of the first update is expected at the end of June 2001.
- ends -
About ANT Limited ANT Limited http://www.antlimited.com develops and markets embedded communication appliance software for use in consumer electronics, Internet appliances and eCommerce products. Core technology includes the ANT Fresco™ Browser and the ANT SimplEmail™ email client, which employ high performance, highly portable and customisable architectures designed to meet the needs of Internet appliances and other networked products. ANT's technology gives original equipment manufacturers (OEMs) of Internet devices, and the technology partners that supply them, three significant advantages: far greater speed to market, reduced engineering costs, and freedom to leverage corporate identity. The company's current customers include: Analog Devices, Amino Communications, OpenGlobe, Pace Micro Technology, Quiero, Sagem, Symbian and ZapMedia. Partners include: Bitstream, Enea, IBM Microelectronics, RSA Security, STMicroelectronics, Tality and Wind River Systems.
ANT Limited, 20 Cambridge Place, Cambridge, UK, CB2 1NS. Tel +44 (0)1223 716400 Fax +44 (0)1223 716401
email:info@antlimited.com
U.S. headquarters: North Suburban Business Center, 23 Walkers Brook Drive, Reading, MA 01867; phone: 781.942.4551; fax: 781.944.7785; email:sales@antlimited.com
About RISCOS Limited RISCOS Ltd develops the RISC OS Operating System under license from Pace Micro Technology plc for use on Desktop computers.
RISCOS Ltd, 3 Clarendon Road, Cardiff, UK, CF23 9JD Tel: +44 (0)2920 464020 Fax: +44 (0)2920 492326 email:sales@riscos.com
####
Fresco and SimplEmail are trademarks of ANT Limited.
RISC OS is a trademark of Pace Micro Technology plc.
All other brand and product names are trademarks or registered trademarks of their respective owners.