This review was originally published in RISCWorld magazine Volume 2 Issue 3.
Whenever I am given a CD-ROM with a new operating system on it, I find myself coming out in a cold sweat. You see, the first time I had to upgrade the operating system on my PC, I managed to format my hard disc in the process, losing about six months worth of extremely vital work. (The upgrade, by the way, was from Windows to Linux, and very quickly went from being Linux to Windows again).
RISC OS has traditionally been supplied only in ROM form, yet this new release of RISC OS (now known as the generic RISC OS 4+) has been supplied as a ROM image on disc. Given that RISCOS Limited originally stated it would never be provided in a softloadable form, this is something of a backtrack for them. It also means you now need to ensure you have extra memory in which to load the ROM image.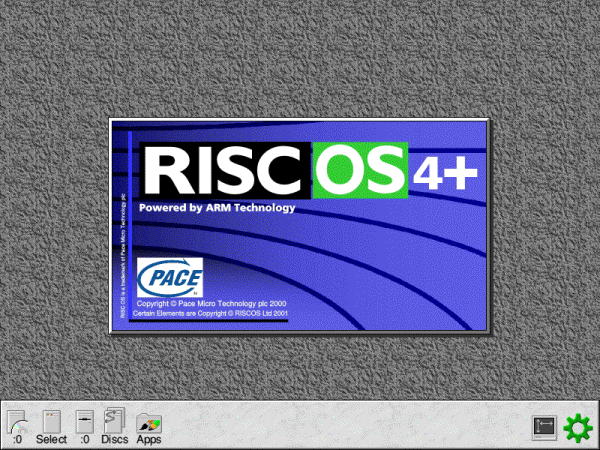 The new RISC OS Desktop, with the new switcher icon.
The release edition of Select issue 1 has an installer, which will automatically make the changes necessary to your system to support RISC OS Select - unfortunately, the preview edition which was available before the deadline didn't have this installer, so I'm unable to comment. After I followed the instructions provided to install the image, a system reboot and RISC OS 4+ was loaded.
The ROM image takes 6Mb of memory - so if you're still running a Risc PC or A7000 with 8Mb of RAM, be under no illusions that RISC OS Select will work. It won't - you need at least 16Mb of RAM, and ideally 32Mb to fully take advantage of the features that are being gained.
So what's on offer?
Looking through the CD-ROM, updated versions of Squash (supporting GZip), the Scientific Calculator, and the Character Selector application form the new applications supplied. The additions to Squash are most welcome, providing a quick and easy way for RISC OS users to create files suitable for passing to PC owning friends. The developments to !Chars are less of a development and more of a rebranding. Martin Würthner's XChars utility is now supplied as standard with RISC OS.
The Diversions directory has an updated version of the memory display utility - now flashing when you're running low on memory - and the RISC OS Puzzle has been updated by Richard Hallas, offering a much greater variety of board sizes, options and such like. It's still not my sort of game - you need to have patience for it - but it will appeal to some, and the changes bring some much needed variety to the proceedings.
The Internet directory has on offer a selection of utilities formed from the original RISC OS selection and RISC OS Ltd's acquisition of the Ant Internet Suite. The applications - !FTP, !HotList, !JFinger, !Ping, !Ping+, !Time and !TrceRoute - cover a variety of essential Internet functions, from the ability to FTP connect to your own web space, keeping lists of constantly visited websites, checking the network connections active and even some basic firewall protection.
One of the biggest updates seems to be with the printers system. A new version of !Printers, aptly called !Printers+, promises to offer greater compatibility with a wider choice of PDFs. Unfortunately, RISCOS Limited are no longer guaranteeing to produce and support the creation of new PDFs themselves, instead asking that dealers who sell the printers produce them for their own needs. This may be a practical solution to reduce the administration, but a public site from which a selection could be uploaded from/downloaded to would probably be of use. A selection of PDFs are supplied, together with advice as to which will suit which printer.
Acorn Replay (or should that be RISC OS Replay) has been given an update, allowing for support of basic MPEG files. Whilst I have yet to test it fully, at the press launch a StrongARM Risc PC was shown running an MPG of Three Weddings and a Funeral with reasonable success. The lipsynching was slightly off sometimes, but the general look and feel was stunning. With luck, we may through RISC OS Select eventually get the promised additions to Acorn Replay, supporting a much wider variety of file formats - especially important now that MovieFS is no longer available.
The Utilities directory contains updated versions of ChangeFSI and HForm. ChangeFSI now supports cross-application transfer of data via an internal clipboard. The new versions of Paint, Draw and Edit are reported to, but we've been unable to test this as it was not supplied.
Conclusions
RISC OS Select seems to make sense in a lot of ways. It provides RISCOS Limited with a means by which RISC OS users can receive a regularly updated, actively supported, operating system and has some promise for the future. The first issue looks to be something of a disappointment, with things such as DHCP - increasingly required for Internet users - being held back until a later edition but there have been a number of internal changes.
Still, it's a move in the right direction, and as it ensures future development of the operating system it's probably worth a close look at in the future.
This has been based on a preview CD-ROM, provided to members of the RISC OS press. Keep a close eye on the RISCOS Limited website for specific details of the content in issue one - it should be somewhat more than that on offer at the time of writing.
David Bradforth
---